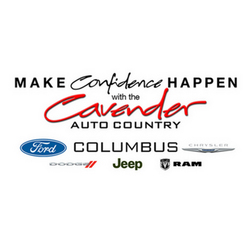 Sales Consultant
Columbus, TX
Imagine bringing your experience to a place that is continuously investing in its employees and their individual success–not only do we offer great compensation, but we are a family-owned dealership who is always seeking top qualified talent to join our team! With exceptional facilities, defined processes, and empowering environments, you are sure to find a rewarding career with us at Cavender Auto Country.
As a Sales Consultant you will:
• Approach, greet, and offer assistance or direction to any customer who enters the dealership showroom or sales lot.
• Assist customers in selecting a vehicle by asking questions and listening carefully to their responses.
• Explain product performance, application, and benefits to prospects.
• Describe all optional equipment available for customer purchase.
• Build strong rapport with customers.
• Perform high-quality, professional, and knowledgeable presentation and demonstration of new/used vehicles.
• Learn to overcome objections, close sales, and perform all other steps of the sales process in accordance with company standards.
• Report to the sales manager regarding objectives, planned activities, reviews, and analysis.
Qualifications
• High school diploma/GED required
• Previous sales and/or customer service experience is a huge plus
• Enthusiastic personality with high energy throughout the workday
• Outgoing with a friendly personality, especially while handling objections & negotiating pricing
• Possess strong communication and customer service skills
• Must have a clean and valid driver's license
• Must be willing to submit to a drug screen prior to employment
We are an Equal Opportunity Employer and prohibit discrimination/harassment without regard to race, color, religion, age, sex, national origin, disability status, genetics, protected veteran status, sexual orientation, gender identity or expression, or any other characteristic protected by federal, state or local laws.
7190960